Benefits of a Low-Code Software for Public Health
Posted on July 3rd, 2023 | SSG
---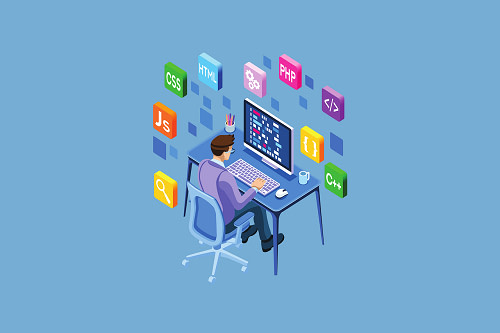 Public health officials aren't typically known for their technical expertise, but technology plays an increasingly important role in the way we utilize and manage healthcare services. Most departments need an electronic health data management system to collect and analyze data at the local and state levels. Each model needs to be configured to the department's specific needs and workflow, often requiring the expertise of a skilled IT professional if not a team of engineers. But low-code software makes it easier for health officials at all levels of the government to create their own software programs for specific processes—no technical experience is required. 
Little to No Expertise Required
Thanks to low-code software, the average public health worker/department doesn't need a degree in computer engineering to create a custom health data management platform. All they need is an idea of how they'd like their software to work, such as a series of steps or actions that can be drawn on a napkin. If they can sketch out a process workflow, they can use the low code software to build their own app or web portal. 
A low-code software program gives users the tools to design and alter their own platform using easy-to-understand drag-and-drop menus, icons, and other built-in configurable features. When using low-code software for public health, officials can quickly tailor the program based on the data it needs to collect and analyze. Users can configure the data entry fields, automate routine processes such as entering and verifying information, and even control user access based on their credentials.
While low-code software is easy to use, the users do not have to go through this process alone. SSG is standing by to answer all user questions and provide technical support when needed. It's all about giving health departments and public agencies the tools they need to do the work on their own for faster results and implementation. 
Save Time and Money
Creating a public health application can take several months, if not years, when hiring a professional to design the program from scratch. This person may not be familiar with the health or legal requirements, which can lead to a lot of back and forth. But these programs often need to be implemented within a matter of days, especially when there is a novel virus on the move. Asking a web designer to create an online health app or program from scratch will also inflate the cost of the project when the health department could be doing a lot of this work itself to save time and money. 
Low-code software dramatically reduces the time it takes to create a data management system. Workers and officials can quickly build off the existing code in the low-code software instead of designing a program by manually writing code. The cost of using the low-code software is often a fraction of the price these departments would pay to have a team of engineers write the code line by line. The software gives the users endless options without overcomplicating the design process for faster implementation. It is also designed to grow at scale as these departments ramp up their data collection efforts. 
Built for Ongoing Configuration
Public health administration is always evolving as new diseases, viruses, and trends are discovered. Officials need to be able to modify their data management program as the health of the local population changes over time. Increased data collection can also track and analyze new trends or root causes related to the social determinants of health, which can alter the agency's approach and/or priorities when collecting information. 
With the public health landscape in flux, low-code software makes it easy for officials to quickly make changes to their existing data management system as the situation evolves. New data fields can be added, removed, or adjusted based on provider feedback and changing federal reporting guidelines without having to consult with an IT professional. 
FAQs:
What is low-code software?
Low-code software is a program that lets users without a lot of technical experience create their own software program using configurable features, easy-to-navigate menus, and drag-and-drop icons that simplify the design process. It is designed to digitize certain health processes, such as immunization information collection, administering early childhood development programs, and mapping the spread of disease. 
If the department needs additional assistance when using the low-code software application, the company that licenses the software can be available to answer any questions. But the point of low-code software is that anyone can use it regardless of their technical expertise.
What are some examples of low-code software used in public health management? 
When applied to public health software, a low-code solution can generate a range of health data management software programs, such as immunization information systems, early childhood development programs, lead prevention programs, and those designed to monitor the spread of infectious diseases. The department can modify the information being collected and the information exchange process based on required guidelines.
How can low-code software improve efficiency in public health management?
Low-code software can improve efficiency in public health management by eliminating information bottlenecks and giving workers the tools they need to quickly develop tailor-made software programs that automate routine processes, such as data entry, verification, analysis, and reporting, so they don't have to complete these tasks manually and/or on paper. Public health workers will have more time to focus on healthcare administration and implementing policies that bring about meaningful change. 
Low-code software makes it easy for health departments to digitize the data collection process. Creating a digital database improves reporting accuracy while reducing the need for paper records, which can be costly to store. It also does away with manual data entry by automatically collecting and organizing different kinds of digital files, including lab reports, electronic health records, and provider notes. 
The team can easily adjust the software based on the department's requirements without hiring or consulting with an engineer, which will help the agency save money when bringing new information systems online. They can also easily configure the program interface by logging into the low-code application platform and making the necessary changes so the department can roll out new features, provider and patient questionnaires, and guidelines as quickly as possible. Managers and administrators can quickly review the software or new changes before they go online, so they can give feedback and resolve issues without disrupting the data collection process. 
Low-code software is the key to the future of public health data management. Designing a process-oriented health data program has never been easier, and departments can use these tools to increase efficiency and save money. Contact SSG to learn more about our low-code software solutions for public health.