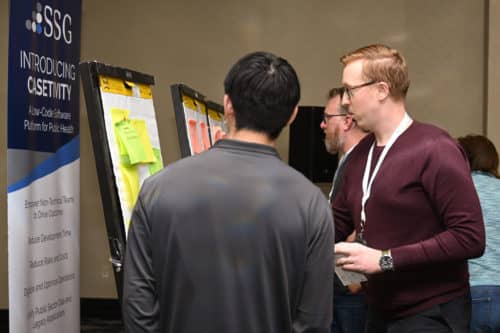 SSG is a high-energy health information technology consulting and software development company that offers an innovative environment for dedicated and passionate people. Our talented team members combine expertise in public health and IT solutions to provide superior business consulting services and software products to our customers, making a positive impact on the health and well-being of our nation.
It is an exciting time to join SSG and grow with us as we expand our impact and service to others within the public health industry.
We invite you to explore our open positions below and apply to join the SSG team!
"My favorite thing about SSG is the family-first approach to work life balance. While you are certainly expected to get work done, it is also equally important that you are not doing so at the expense of your family and personal life. Rather than having a clock-in clock-out philosophy and using micro-management, SSG lets me be more productive by choosing the hours that work best for me. "
Hollis Jamison - DevOps
"As a Client Support & Experience Specialist I have had the opportunity to support public health departments with software assistance that enhance critical services provided to children receiving Early Intervention services as well as other areas of public health. Beyond feeling that my role has a meaningful impact on those that I serve, there are many other benefits of working at SSG that I've experienced. What I enjoy most is that my responsibilities are not rigid and I am encouraged to seek out work in any area of the business that piques my interest. As a rapidly growing company, it's an exciting time to be at SSG. Throughout our growth, SSG has continued to provide a supportive and collaborative work culture. It has been a joy to spend my time working with great people on important projects. "
G.L. - Client Support Specialist
"When I first joined the company, I wasn't sure what to expect. Having come from a behemoth like Hewlett Packard Enterprise, I didn't think I'd be here more than a couple of years. I certainly didn't expect to be here over 7 years. What I found here and what's kept me here are the incredible people I work with every day, the exciting projects we have, and the fact that SSG gives me the freedom to establish a way of working without micromanaging. "
Melinda Chin - Business Analyst