Growing Up: The CDC Updates Child Development Milestones for Infants and Young Children
Posted on March 31st, 2022 | SSG
---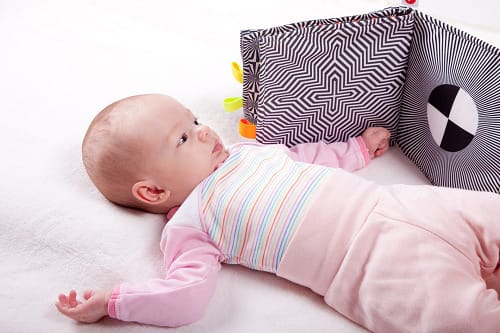 In early February, the Centers for Disease Control and Prevention (CDC) and the American Academy of Pediatrics (AAP) revised their developmental milestone checklist for infants and young children for the first time in nearly two decades. These benchmarks look at a child's age and the expected behaviors and motor skills they should be demonstrating to help parents, educators, and doctors assess their progress and identify possible social-communication disabilities like autism earlier.  
The previous guidelines were based on the age when 50% of children should be doing certain things. For example, under the old milestones, it was expected that 50% of children should be starting to talk at 12 months. However, this could cause significant anxiety in parents when their child was not exhibiting these behaviors or meeting developmental expectations. The new guidelines now use a threshold where 75% of children can be expected to demonstrate the behaviors and motor skills. This has pushed back all milestones, and, in the case of starting to speak, the new benchmark is 15 months.  
One of the reasons behind the change is that many parents and doctors would take a wait-and-see approach if the child did not exhibit the expected behaviors. Because the new milestones use a narrower set of criteria, it can help identify children who might need assistance sooner. The new guidelines include developmental checklists for every checkup from 2 months to five years of age, plus revised tips for parents to promote health and development for the child.  
The changes will help clinicians, doctors, early childhood professionals, and parents to identify areas of concern better and provide the opportunity for early intervention. After all, the earlier the problem is identified, the sooner the child can get the assistance and treatments they need to set them on the path for success. But, for many public health departments and healthcare centers, a lot of this work still relies on using paper forms followed by data entry, which is an increased burden for staff. However, digital solutions like the Early Intervention Part C Data System created by SSG can help. 
This software platform provides caseload management, helps with coordinating services, can track eligibility verification, create an independent family service plan (IFSP), manage early intervention billing, ensure compliance, and even assist with telehealth and reporting. The solution is an integrated and automated system that reduces duplication and makes services more efficient. 
The CDC and AAP's new milestones for young children are important updates that will help identify potential issues sooner. They will also reduce anxiety for parents if their child does not reach the previous benchmarks, which only 50% of children did. Many studies show that an early diagnosis and intervention for children with autism spectrum disorder (ASD) see improved outcomes and long-term benefits in dealing with their symptoms and developing skills. Parents, clinicians, doctors, and early childhood professionals must be vigilant in tracking these developmental milestones and create treatment and therapy plans for those who need them.