Early Intervention and Autism: Benefits of Speech Therapy for Autism
Posted on September 25th, 2023 | SSG
---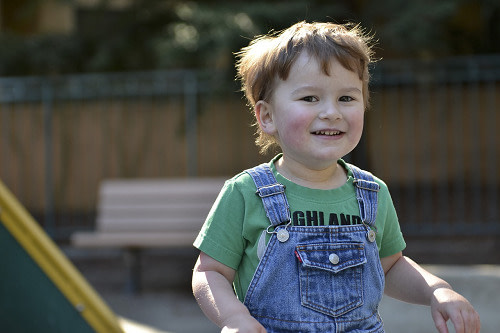 Early intervention connects families with children with autism to community providers and resources that can help them overcome developmental delays. Early intervention Part C services are usually administered when children are between birth and three years old while their brains are still developing. Receiving these services at a young age can even help some children get off the spectrum later in life.
Early intervention for children with autism spectrum disorder (ASD) provides individualized family service plans to help children develop the skills they need to live a fulfilling, independent life. Early symptoms and warning signs signal to parents and caregivers that these children need additional help before going to preschool. The state early intervention program connects the family to local programs and providers who can help the child improve their thinking, social, motor, and communication skills. 
Intervening at an early age helps children start their academic journey on the right foot. Learn more about early intervention for autism and the benefits of speech therapy for children with ASD. 
Why is early intervention important for autism?
Early intervention for autism occurs when the child's brain is still developing. The mind is considered more malleable during the first three years of life. Early intervention therapies tend to have a larger positive impact on the child's well-being and development when administered during the first few years of their life while their brain is still growing and forming new connections. 
The process typically begins around 6 months of age up until three, a couple of years before they are set to begin preschool. If the child exhibits symptoms of autism or the family believes they may be on the spectrum, the state pairs them with a licensed provider who creates a custom educational program to help the child acquire the skills they need to participate in the classroom, including motor, thinking, emotional, and communication skills. 
Intervening at an early age can even help reduce or even eliminate symptoms of ASD later in life. The sooner they are placed in an individualized family services plan, the better the autism early intervention outcomes. If a child starts receiving additional support after their brain has formed, these programs won't have as much of an effect.
What are the benefits of early intervention for autism?
Children who receive early intervention services for autism during the first few years of life are less likely to be affected by symptoms of ASD when they are older than children who don't have access to these services before they go to preschool. 
Early intervention for autism is designed to increase the child's chances of success when they enroll in school at age five or six. By the time they enter the classroom, they will have spent several years improving their motor, thinking, emotional, and communication skills, so they can forge relationships with their peers. Children with autism who participate in early intervention also typically have higher IQs than those who didn't receive treatment during the first few years of life. 
Programs such as these help children with autism get off to a smooth start when transitioning from home to school. Early intervention gives providers and caregivers time to learn more about the child's perspective of the world and the difficulties they may face later in life. This informs the services they receive in the classroom so they can reach their full potential. Children with autism who are diagnosed and treated at an early age are less likely to need additional assistance in the future. They will be in a much better position to become productive and independent members of society.
Who provides early intervention services for autism?
Early Intervention Systems for autism are administered at the state and local levels. Every territory in the U.S. has its own early intervention program, an entity within the local department of public health. While the functions and requirements of each program vary from state to state, they are all designed to identify and track the health outcomes of children on the spectrum. 
If a family or caregiver suspects their child might have autism, they will likely report it to their doctor or a provider in their network. If the child is diagnosed with autism, they will be included in the state's early intervention program. Providers who specialize in helping children with autism can then meet with the child at home or in the community to help them work through any developmental issues they may be having. 
The state program continues to monitor the child's progress until they are old enough to go to school. At this stage, the child transitions out of the early intervention program and into an individualized education program administered by the school. The education program provides additional support to the child in the classroom so they can participate and learn with the other children. 
What types of therapies are involved in early intervention for autism?
Every early intervention program is unique because autism affects everyone differently. The therapies involved in the program depend on the child's specific needs.
Speech therapy is a common feature of early intervention for autism. It helps children with ASD develop their verbal, nonverbal, and social communication skills, so they can engage with others. Autism speech therapy varies based on the child's relationship with speech. For example, some children on the spectrum have trouble voicing their thoughts and feelings, while others enjoy talking for hours on end but may have difficulty picking up on social cues like body language and facial expressions when making conversation. 
A speech-language pathologist often provides therapy services. The exercises involved in speech therapy may help the child strengthen their vocal skills by focusing on enunciation and improving muscle coordination. Some children may learn to speak using apps that turn text into speech so they can learn how to pronounce certain words. Other programs may work on modulating the child's tone of voice, matching their tone to facial expressions, or having the child practice responding to questions. 
Autism early intervention programs can also include applied behavior analysis (ABA), which focuses on identifying and modifying behavior. Others may feature social stories designed to help children prepare for specific tasks and experiences, as well as sign language, exploratory floor time, and occupational therapy. 
Improving Autism Early Intervention Services with SSG's Software
Early intervention programs help children with autism become more independent and productive later in life by exposing them to effective treatments while their brains are still developing. These services need to be introduced at an early age to have an effect, usually between birth and three years old. State-run programs are tasked with tracking and monitoring large quantities of data, often using early intervention management software, to ensure that children in this age group with autism receive the support and resources they need to live a successful life. 
When a child is diagnosed with autism by a provider, they will refer them to the state early intervention program. The referral automatically assigns the case to the administrators of the program, so they can evaluate the child and create a personalized individual family service plan (IFSP) based on their specific needs. Administrators can then use the program to track and evaluate the results of the plan. Service providers and caregivers can add notes about the child's condition and progress. New therapies and treatments can be added and removed based on the observed symptoms and progress. 
The dashboard notifies the department if a child hasn't received services, including the number of days by which the services need to be administered according to state law. This ensures that no child gets left behind and that all services are administered within the approved timeframe to maximize the potential benefit. The program facilitates the entire early invention process from ages zero to three while helping the staff transition the child out of the IFSP and into an individualized education plan (IEP).
Contact SSG to learn more about our early intervention software and how it can be used to administer these programs.